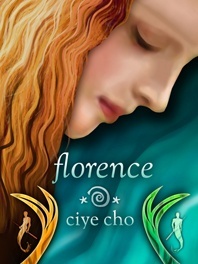 Summary (from Goodreads)
Title: Florence
Author: Ciye Cho
Publication Date: 1 July, 2012
Publisher:
Summary:
Seventeen-year-old Florence Waverley is out of her depth. Literally. Kidnapped and taken below the waves to the mer world of Niemela, she is the ultimate gift for merman Prince Kiren: a human familiar tied to his side. But nothing is what it seems amid the beauty and danger of a dark ocean.

Every Niemelan has a role to play, from the mermaids who weave towers out of kelp to the warriors who fight sea monsters. But in trying to survive, Florence will end up in the middle of a war between the mer and the Darkness. A conflict that will push her between two brothers: Kiren, the charmer inexplicably drawn to both her and the monsters; and Rolan, the loner who has been pushing her away since the day they met. But in order to take a stand--and find out where she belongs--Florence will have to risk it all: her life, her heart... and her very soul.
My Thoughts:
What do I have for you today? If you've read the blurb you'll that we have an underwater romance book today. If you remember, I only read one or maybe two books about mermaids. Not a big fan of them I guess. But I challenged myself and accepted to review this book. Thank you my ever-challenging character to take it up. I had a time of my life on New Year's Eve while reading it.
No matter which mermaid book I took, it always lacked something as soon as I started reading the description of the mer-people, I knew what was lacking - the reality of the mermaids in the books. However, Ciye Cho does this so expertly that I never doubted him that either Rolan or Kiren were merman. The descriptions were really vivid and the thing with giving mermaids colors was amazing. In the beginning you may get confused who is who, but soon you will be finding yourself engrossed in the book to extent where when your kid brother starts jumping on you and you are not bothered by it in the slightest. (my situation xD)
Another great thing is the intrigue about Florence's background. I won't spoil it for you as to who she is, well actually I can't. I am still lining up my ideas about it. So far the topic of her background was not even broadened. There were some questions as to why she can do this or that, but no-one really looked into it.
I guess I could talk for ages about this book; however, I do not want to accidentally slip something important. So that will be it for today. However do not be mistaken, soon there will be two more reviews coming up, the follow up of this book, I've already started reading them, and yep, they are fabulous. Did I hook you up to read it? If so, do not hesitate to get your copy too. Underworld full of mysteries and hot merman are waiting for you to take a dive.
My Rating: