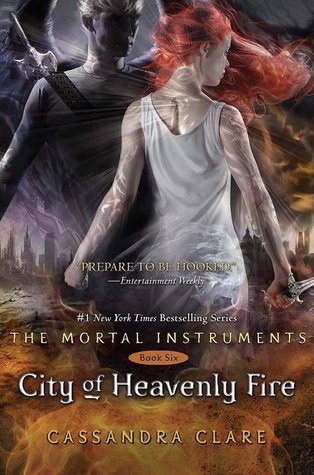 Title: City of Heavenly Fire
Publication Date: 27 May, 2014
Publisher: Margaret K. McElderry
In this dazzling and long-awaited conclusion to the acclaimed Mortal Instruments series, Clary and her friends fight the greatest evil they have ever faced: Clary's own brother.
Sebastian Morgenstern is on the move, systematically turning Shadowhunter against Shadowhunter. Bearing the Infernal Cup, he transforms Shadowhunters into creatures out of nightmare, tearing apart families and lovers as the ranks of his Endarkened army swell.
The embattled Shadowhunters withdraw to Idris - but not even the famed demon towers of Alicante can keep Sebastian at bay. And with the Nephilim trapped in Idris, who will guard the world against demons?
When one of the greatest betrayals the Nephilim have ever known is revealed, Clary, Jace, Isabelle, Simon, and Alec must flee - even if their journey takes them deep into the demon realms, where no Shadowhunter has set foot before, and from which no human being has ever returned...
Love will be sacrificed and lives lost in the terrible battle for the fate of the word in the thrilling final installment of the classic urban fantasy series The Mortal Instruments!
I read the book after two or three days it was published. I mean I've been expecting it for 2 years. However, the review is being published only now. Guess, I didn't have a paper on me when I finished reading and so I didn't store my thoughts. But here I am now, covering my most anticipated book of 2014 in 2015.
This is the last book of the Mortal Instruments series. To say the truth, I was expecting more, but I still did get a lot from it. Clare was making a lot of spin offs during the book to link it to the next series, which will be out in 2016, if I am not mistaken. My most expectations crashed when Sebestian died. Not by him dying, I mean I knew he was going to die, but his last words. I would have thrown the book over the room if I was reading the paperback, however, I was reading on my tablet and I love it too much to throw around. I am sorry, but I need to say this, hence the spoilers, when he apologizes for all he did before his death, it is just too not Sebastian style. I would have preferred him staying the cold-blooded psychotic bastard he was throughout the series that to miraculously turn into a good boy. I guess Clare wished for him to say sorry and she wanted to show us that he was not all that bad, but still, I did not really like that.
Many secrets have been explained, and many gave me piece of knowledge on everything. Some of our favourite characters from the Infernal devices appeared and saved the day. Also, I guess Clare loves absolute happy endings. The book ended with mostly all of the main characters who came from book 1 to the end with a happy ending. One thing that I adored is the Seelie queen. I guess I have a soft spots for villains. But I loved her only for her wit. And I really mean it. Her wit is absolutely amazing. But so is her playing with words. And hell, she does that masterly. The moment when she swears not to tell Sebastian that Jace, Clary and the company departed to his world and as soon as they leave, she contacts Sebastian telling him, that they came to her place. She explains it that she swore not to tell him about their departure, but not about their arrival. That moment fascinated me, and I think it made me closely listen to my own words and what people tell me, when they ask for favours or stuff.
Nevertheless, the book was a suitable conclusion for the series and it gave enough of mystery and intrigue for the next series to keep me motivated to read them. I do hope that you get your copy now, if you still haven't. And if you are new to the world of the shadow hunters, well, what are you waiting for? Start reading it right now. A whole world of amazing creatures and especially a lot o adventures are waiting for you. Enjoy this amazing thrilling ride to its fullest. Please, share your thoughts with me, they mean a lot to me.