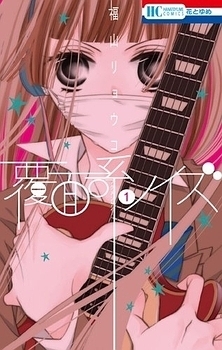 Title: Unmasked Noice
Original Title: Fukumenkei Noise
Genres: Comedy, Drama, Gender Bender, Romance, Shoujo
Chapters (Translated in English): 23
Volumes & Chapters: 4 Volumes in total


Summary
Nino is a girl who harbours feelings her friend Momo. Just when she can no longer suppress her feelings, she encounters a boy who composes music..., and what is the promise Nino made to a boy she met who composes music?
My Thoughts
Review covers 23 chapters.
I think this particular manga has been on my to-read list for at least half a year. Somehow, I always found other things to read or just plainly ignored it. And now for some reason, it is the very first one to be reviews on my blog. Fate? I don't know about that. But as soon as I took up this manga the first 22 chapters went so fast I couldn't believe myself, and then I was waiting for about 2 weeks for the next chapter to be translated. Now I have to wait for even more…
First let's talk a bit about the plot. I think the summary doesn't give us a lot, but at the same time it intrigues enough to start reading. Let's say we have three main characters: Nino, Momo and Yuzu (Nino is a girl and Momo and Yuzu are guys). Nino and Momo are childhood friends, who are very, very fond of each other. They are always together doing stuff and especially sing different songs. Because of some circumstances Momo's family has to move away and those two promise each other that their singing will be the sign to bring them together in the future.
Now, you'll think total childhood friendship cliché. Well, sorry, to disappoint you. Because those two were inseparable, when Nino is left alone, she is suffering a lot. Because of loneliness she wants to scream and in order to stop her soul to scream out loud she starts to wear a mask over her mouth. Everything would have been amazing, or kind of, if she didn't meet a boy called Yuzu one day when she had he breakdown. And so he asks her to sing his songs when she is having her breakdowns. Long story short, something again happens and Nino is left alone again, but now, she is singing when she wants to scream. Several years pass and now all of our main characters are high school students, but are they the same? Could it be that Nino can be reunited with Momo? Or something absolutely different is awaiting her? That's for you to find out if you start reading this manga.
Now, a bit about the style of the manga and why I chose this particular one for today. I have read another work by Ryouko Fukuyama, Monochrome Kids, though it is still being translated in English and I am thinking of reading it in German. I can say with utmost certainty that if somebody would have told me a year ago that I will be reading and understanding manga, I would have laughed. To say the truth I've tried one about 5 years ago. For me it was just some pictures and words, I was always confused from where to start reading. I just wasn't having fun. I don't know what, but somehow around a year ago everything changed. I got a taste of ut and I liked it. But even now sometimes I'm lost when I am reading manga about music or arts. The author has to express his ideas and emotion through black & white world of drawings and words.
When I was reading Unmasked Noise, I felt all the characters to the extent that I thought they were real, that they lived around me. I got why they are so stupid, but the best part was that I was really feeling the music through the pictures and it was amazing. I think it was as if I was listening to the screams and songs while reading. I only had the same experience with Chiba Kozue's Crayon Days, where through black & white I actually was seeing all 24 colors of palette. I guess, the next time I will write about that one.
When I was reading Unmasked Noise, I was on edge every time. I was intrigued by everyone's past and was cheering them on their future. The characters are portrayed as real people, they are not the best people in the world, nor are they the worst. They are just people; they are high school students, who have their own dreams, fears, expectations and obligations. They are in love, but they all have to forget that feeling for the time being, first is to show each other that they are there, that their voices can reach their loved one hearts.
I really hope that this review was at least a bit helpful, I tried not to spoil (which was quite hard, because I want to say so much more). I guess I will just write another review when all the chapters are translated and I finish reading them. Christmas is just in a few days. Have great holidays and have fun!
Rating